Tis the season for THANKFULNESS!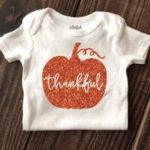 In a time when we should all be counting our blessings, we tend to wonder WHAT to be thankful for and HOW to be thankful. Tempers are short, lines are longer, drivers forget how to drive, weather is brutal, sleep is disturbed, school projects, parties and end of the year activities fill up our calendars and self-care goes right out the window.
When you are feeling stressed, stop, take a time out, go outside, breath in the fresh air, think about something that makes you smile and give someone a HUG (releases oxytocin)
Parenting is a 24/7 365 day commitment with no time off and vacations, holidays and THANK YOU's are often scarce. It is HARD and some days are harder than others. Holidays make life a little more interesting: kids get overstimulated by all the activity, noise, candy and lights and there seem to be scrooges everywhere.
This season can be hard for some people, me included, but just remember that you are not alone and no matter what, you have something to be grateful for.   You woke up today! [Read more…] about WHAT ARE YOU THANKFUL FOR?